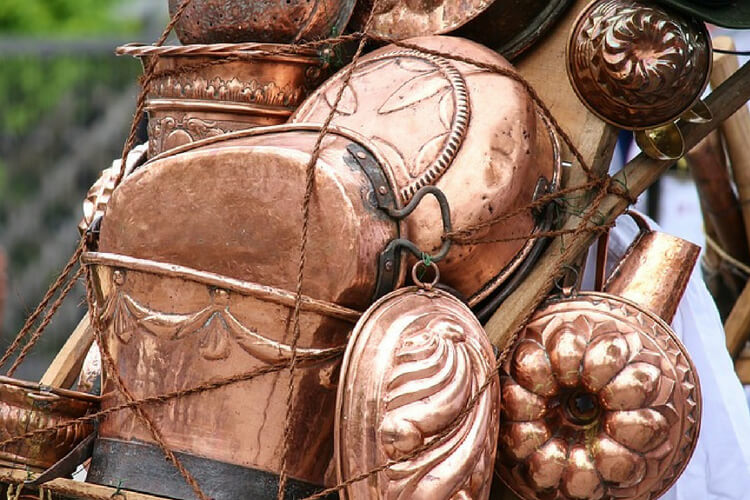 The Anti-Aging Benefits Of Copper For Skin
🛈
This post may contain affiliate links and I may earn a small commission when you make a purchase through those links at no extra cost to you. Also, as an Amazon Associate, I earn from qualifying purchases. You can read my full disclosure here.
People have been using copper for skin care purposes for centuries all the way back as far as Egyptian times but what is it about this precious metal that's so beneficial for skin? Often hailed by numerous ancient civilizations for having mystical powers, copper has been used for many different reasons ranging from pain relief to boosting the immune system and even boosting hair health and healing wounds.
Some even swear that wearing it improves their mood and overall feeling of well being and from a skin care point of view it seems to have numerous benefits that have many singing its praises. In fact, it's often added to many higher-end skin care products because of all its benefits making it quite the popular skincare ingredient.
The Benefits Of Copper
Copper has numerous benefits and is said to contribute to many different functions within the body. It is said to help promote and boost brain health and boost immunity as well as help in the production of red blood cells. It's also said to help promote bone and joint health, thyroid health and from a skin care point of view, it is said to help with skin regeneration which is why it's often referred to as a skin restoring ingredient.
One of the biggest benefits of copper for skin care purposes is its anti-aging and skin restoring qualities because it helps develop both collagen and elastin which are essential for healthier, younger looking skin. When we're younger our skin tends to have plenty of collagen to keep it firm and wrinkle free but as we age, our collagen production decreases which lead to skin losing its elasticity and the formation of fine lines and wrinkles.
Using skin care products that contain copper are said to help improve both collagen and elastin leading to younger, smoother looking skin and a decrease in the appearance of fine lines, wrinkles and sagging skin in the process.
It Helps Promote Hyaluronic Acid Production
Copper is also said to help promote the production of hyaluronic acid which is exceptionally important for maintaining youthful looking skin. Hyaluronic acid has numerous skin benefits including antioxidant and anti-inflammatory properties but its major one is its ability to hold large volumes of moisture making it excellent for skin hydration.
As we age, our ability to retain water decreases which is one of the reasons why we tend to suffer from drier skin as we get older. Hyaluronic acid is excellent at hydrating skin and maintaining that moisture to combat not only dryness but also improving elasticity and collagen synthesis. These moisture maintaining qualities also add more volume to the skin making it look fuller, plumper, thicker and smoother.



It Has Antioxidant Properties
Copper also has antioxidant properties which means that it can protect against free radical damage caused by things such as pollution or too much UV exposure. Excessive UV exposure, in particular, is one of the most common causes of free radical damage to skin and free radical damage is one of the biggest culprits for skin aging. It results in the breakdown of collagen and elastin as well as skin discoloration and the worsening of wrinkles.
Copper is also said to have antibacterial and antifungal properties which is why it's often associated with healing. And by the way, in case you didn't already know, copper is also said to boost hair growth and hair health too so it's often added to many hair treatment products or products that are supposed to encourage hair growth.
Where To Find It
Copper is not that difficult to find in the skincare world because it's added to numerous products including face creams and serums. It's actually one of the most popular peptides used in skincare but there is one downside and that's it's cost. Unfortunately copper tends to be more expensive than many other ingredients so when you do find it, you'll probably be paying more for the product because of its inclusion.
But it doesn't end there. Because copper has become so popular, companies have now started adding it to all sorts of products ranging from healing socks to even anti-aging pillowcases (seriously, I'm not kidding). The pillowcase in question is the Iluminage pillowcase which is infused with copper and is said to have skin rejuvenating effects that are noticeable within four weeks of using it.
Does This Even Work?
Does it work? Well, there are many out there that say it's done wonders for the skin and it's become so popular that the company has now started making a whole range of other different copper infused products including an eye mask, skin rejuvenating socks, and skin rejuvenating gloves.
But the pillowcase doesn't come cheap ($60 for one pillowcase) so you'll have to be willing to part ways with quite a bit of money to get one. I mean let's face it, if you were looking for the definition of guilty spends on anti-aging products then a $60 anti-aging pillowcase has got to be right up there as one of them but then again all the name of beauty right?. What do you think?
Are You A Fan Of Copper Skin Care Products?
Copper has quite the name in the skincare world and you can certainly see why so many are singing its praises. Okay so maybe the idea that it has mystical powers is a bit of a stretch but it certainly has plenty of anti-aging benefits to justify its popularity.
What do you think about copper in skin care products and do you use a product containing copper that's done wonders for your skin? Please do tell me all about it in the comments section below.