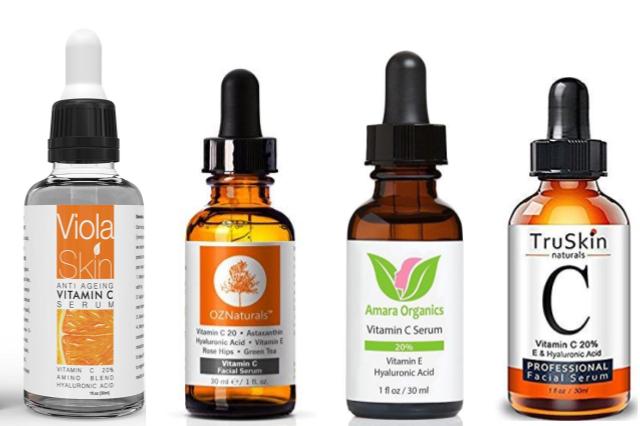 Best Inexpensive Vitamin C Serum
🛈
This post may contain affiliate links and I may earn a small commission when you make a purchase through those links at no extra cost to you. Also, as an Amazon Associate, I earn from qualifying purchases. You can read my full disclosure here.
You don't always have to pay a fortune for good skin care products and I thought it would be a good idea to look into the whole inexpensive range starting with the best inexpensive vitamin C serum. I've already written about the top running vitamin c serums but the top brands seem to steal all of the spotlight and I wondered if there were any cheaper versions that could compete or at the very least come close to them.
I spent a lot of time looking into them and believe me, there's a never-ending list of them to get through but there were really only two that stood out against all the others. I've also included some of the other popular serums too but the first two are by far the leaders of the pack (the first one for Europe and the second one for the US). So when you can't afford or just don't feel like forking out on the more expensive brands, maybe consider one of these cheaper alternatives that may just give your expensive serum a run for its money.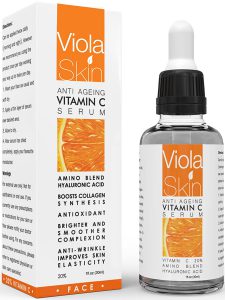 This is currently my favourite because not only is it cheap, it's also really effective. It contains 20% vitamin C which is pretty high but it is the milder form of sodium ascorbyl phosphate which is not quite as potent as the common L ascorbic acid. This also means that it's less likely to cause irritation but don't let that or its price tag fool you, this is still some pretty strong stuff as I learned the hard way by applying way too much of it when I first got it (oops).
I made the mistake of thinking that because it was cheap and used a milder version of vitamin C that it wouldn't be particularly strong but boy was I wrong. It also contains hyaluronic acid which is an excellent skin care ingredient as well as being 100% vegan, alcohol-free and paraben free (it's actually pretty much everything free). It comes in a dropper bottle and is a clear coloured serum with pretty much no odor which is just how I like them (anything that's bright orange and reeks of citrus makes me wary).
The only downside is that if you live outside of Europe, it may be a little difficult to get a hold of. It's made by a Scottish company so it's not always available on non-European Amazons and when it is, it does tend to be more expensive compared to its very low cost closer to its home. There will be a full review of this one coming shortly so watch this space.
Update: The new named Viola Skin has changed its ingredients slightly and now also contains Vitamin E and Arginine which it didn't before so this has made it even better.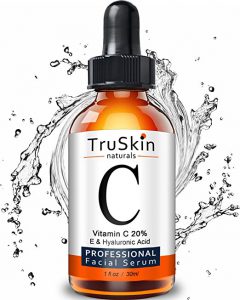 The TruSkin vitamin C serum is extremely popular and has over 9 thousand reviews on it (almost all good) so I had to get my hands on it to try it out. It's actually almost identical to the Viola Skin serum except that it also contains another beneficial skin ingredient which is vitamin E but apart from that, the ingredients are more or less identical. It too contains 20% vitamin C in the form sodium ascorbyl phosphate and the all-important hyaluronic acid.
Its results are also just as good but with almost identical ingredients, I expected that would be the case. I use a retinol at night that contains vitamin E already so maybe that's why I didn't see much of a difference between the two serums despite that fact that one contained vitamin E and the other one didn't. My serum was actually a little on the cloudy side but according to TruSkin, this is perfectly normal and your serum could range from almost completely clear to quite cloudy due to the lack of artificial ingredients that a lot of companies use to maintain the colour.
This particular serum is made in the US and although it is available throughout most of the international Amazons, much like the Viola Skin, it is more expensive everywhere else compared to its extremely reasonable price in the US. This one would also be my joint-favourite but because I live outside of the US, it cost me quite a bit more than the Viola Skin and as the results were pretty much the same, I think my geographic location would come into play if I had to decide between the two. Again, a full review will be coming shortly on this one too so watch this space.
This is another popular choice as an affordable vitamin C serum and this one seems to be affordable right across the board regardless of which Amazon store you purchase it from. It contains very similar ingredients to the first two just with a few extra plant-based ones added. It's also 20% vitamin C (sodium ascorbyl phosphate) and much like the TruSkin, also contains hyaluronic acid and vitamin E.
This one isn't quite as popular as the first two, well in Europe at least but with over 4 thousand reviews behind it on Amazon US (again all mostly good) it must be bringing something to the table. Even in Europe, despite its smaller amount of reviews, it's still almost 5 stars so definitely worth adding to this list. In the US it's actually a little cheaper than the TruSkin although not by much but it's worth noting if that's something you're basing your decisions on.
Again another similar serum with 20% vitamin C (sodium ascorbyl phosphate), hyaluronic acid and vitamin E but this one has the added ingredient ferulic acid (although its ingredients seem to be slightly altered in Europe – see below). Now this one actually falls between the TruSkin and the Amara when it comes to popularity on Amazon US with over 6 thousand reviews which again are all mostly good. It's also affordable regardless of your geographic location.
In Europe, it actually has a lot more reviews than the Amara but there does seem to be an issue with the ingredients list with people receiving a version that contains argan oil instead of hyaluronic acid and this has affected its star rating. I was actually a little reluctant about adding this one and I'll tell you why in a moment but because of it's high popularity, I couldn't really leave it off the list.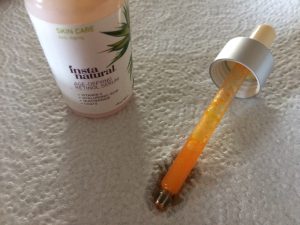 So I haven't tested this one yet (it is on its way though) and for all I know, it could be a miracle in a bottle and the reviews would certainly seem to suggest that but there are a few things I think are worth noting. Firstly it's an orangey colour and secondly, it reeks of zesty citrus and those are the two things that make me wary of any vitamin C product. Ideally, they should be clear and odorless but look, the sheer number of good reviews put it up there with the most popular so until I test it and discover otherwise, it remains here as a top runner.
By the way, I'm currently testing out their retinol serum which just so happens to also contain vitamin C and although I'm only at the start of the testing period (so no idea how effective it is yet) it's appearance is certainly questionable. Not only is it bright orange and smell like a citrus bath bomb, it also has what look like little orange pieces in it (see the picture to the right) so this might have something to do with my hesitation about their vitamin C serum. But again even their retinol has great reviews so I guess I'll find out soon enough whether its appearance has any influence on its effectiveness.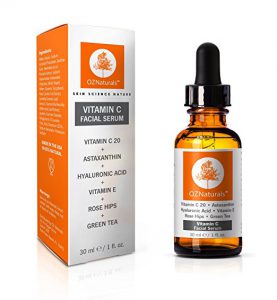 This is another extremely popular affordable serum that has over 6 thousand reviews on Amazon US although its star rating is slightly lower than the others mentioned. It's also priced pretty equally across all the Amazon stores regardless of where you are situated. This one also got a mention in Allure magazine's best in beauty section so it's popularity hasn't gone unnoticed.
It too contains 20% vitamin C (sodium ascorbyl phosphate), hyaluronic acid and vitamin E along with a few more natural ingredients. However, it is worth noting that it looks as though the product's formula has recently been changed. Its original formula was a hit with almost all of its user, however, this newer formula seems to be less popular and as a result, its star rating has started to decrease somewhat. It also looks as if the newer version has changed in colour from what was once a clear serum to a now orange coloured serum (oh no). I'll keep an eye on that one and update this list if necessary.
Final Thoughts
So it turns out that you don't necessarily have to fork out a small fortune for a good vitamin C serum. These cheaper alternatives may just surprise you with their effectiveness.
If there are any other inexpensive vitamin C serums that you have or do still use that you feel deserve a mention, please do let me know all about them. Have you tried any of the products listed above and if so, what was your experience, please feel free to tell me all about it in the comments section below.

---
---