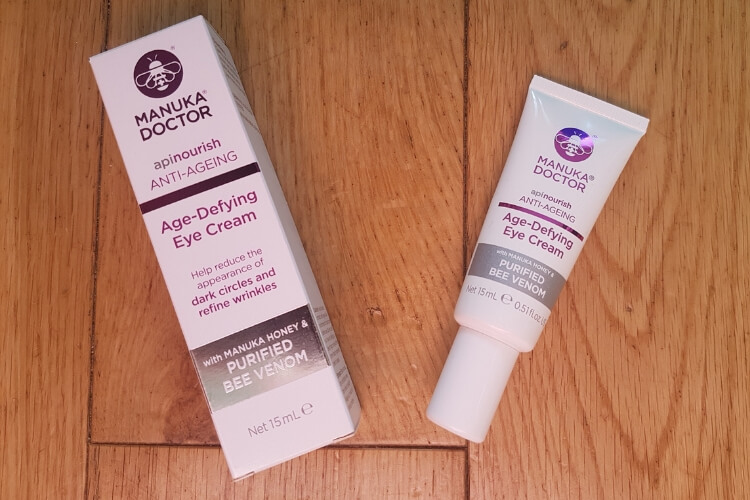 Manuka Doctor ApiNourish Age-Defying Eye Cream Review
🛈
This post may contain affiliate links and I may earn a small commission when you make a purchase through those links at no extra cost to you. Also, as an Amazon Associate, I earn from qualifying purchases. You can read my full disclosure here.
I love Manuka Doctor products and their Age-Defying Eye Cream is no exception. You see, I'm having quite the love affair with them at the moment ever since I tried their ApiNourish Night Cream and their Age-Defying Serum. I was so impressed with both of them that I ended up on a mad spending spree trying to acquire as many products from their ApiNourish range as I could possibly get my hands on.
There was a half price sale on at the time so I'm using that as my excuse to justify my splurge (a girl can't resist a bargain after all) and their eye cream was just one of the many new additions to my skincare cabinet. I was actually pretty excited to try this one because of the effect their serum had around my eyes which I didn't even apply directly to that area so I had high expectations for this cream.
Why The Obsession With Manuka Doctor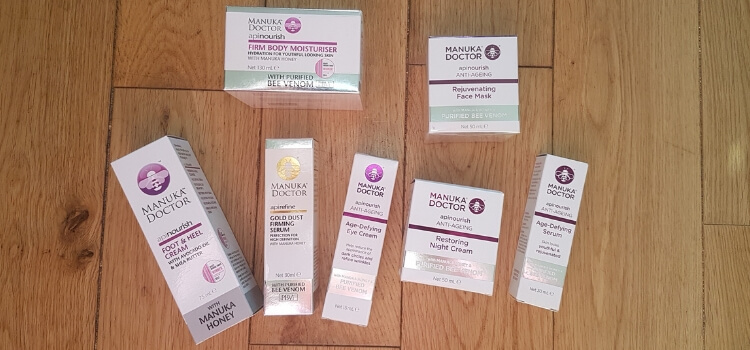 Why the obsession? Well, simply put, it's because they use both the extremely skin benefiting Manuka Honey in their formulas as well as bee venom which has been giving the nickname "natures botox" due to its ability to nurture natural collagen formation and increase skin elasticity. In fact, Manuka Doctor has nicknamed their entire ApiNourish range as "natures facelift" so you can understand my slight obsession.
But the main reason for my love affair is because every single Manuka Doctor product I've used so far has been extremely effective and at this point, I've used several. So far, I've pretty much stuck to the ApiNourish range as this is the one I've had the best results with so far but they do sell several others which I'm now also starting to experiment with particularly their ApiRefine range.
The Important Ingredients
The Manuka Doctor Age-Defying Eye Cream contains the usual moisturising manuka honey and collagen promoting bee venom but there are some other beneficial ingredients added to the mix. There are a couple of peptides thrown in including an advanced Octapeptide that is said to be clinically proven to reduce the depth of deep wrinkles around the eyes and forehead.
This eye cream also includes vitamin E and a flavonoid called Alpha Glucosyl Hesperidin which is found in citrus fruits. This flavonoid is said to stimulate surface circulation to help improve dark circles under the eyes and lift and refresh tired, dull skin. It's also blended with botanical silicon and skin tautening tannins from oak which are also said to be clinically proven to reduce fine lines and wrinkles.
My First Impressions
Like most eye creams, the tube is relatively small but that's not anything unusual. One thing I will say is that the tube did feel like it was pretty empty so I had to squeeze it pretty significantly before any product even began to come out of it. This did make me wonder how far this product would go but as you only need the smallest amount, it did actually last a surprisingly long time.
It has a small nozzle which makes it easy to keep your use down to a minimum because only a thin string of product comes out with each squeeze and as with most Manuka Doctor products, a little goes a long way. It's also worth mentioning that this cream is pretty reasonably priced (£11/$16) and the fact that I only paid half that with it being on sale makes it even more so.
How It Looks And Feels
It's quite a light thin cream that has a bit of a gel-like feel to it but it spreads quite well so you only need a tiny amount, like slightly smaller than pea-sized will do both eyes. It absorbs pretty quickly with no tacky after feel and has quite a cool refreshing feel to it which lasts for several minutes after application.
It almost feels like the sensation you get after applying a cold compress to your eyes. Not only do they feel cool but the skin also feels kind of plumped up and tightened immediately afterward but not in a drying kind of way. This cream is actually seriously moisturising and hydrating so that alone helps to improve the appearance of fine lines and wrinkles almost immediately.
The Results On My Skin
I really like this eye cream because it leaves the eye area super soft and hydrated. There's definitely this fuller look to the eye area because not only does everything look smoother and more moisturised but also brighter too so it's definitely effective at alleviating dark circles. For me, one of the biggest improvements was the skin directly under the eye which seemed to fill out somewhat and smooth out any puffiness in the process.
I don't think it's quite as instant with its results compared to their night cream or their serum but I still like it regardless because, after a few days of use, it does start to have a minimising effect on the appearance of fines lines like crows feet around the rest of the eye area. It definitely had a much better effect when it was used in combination with their other products but even on its own, I still deem it a pretty effective eye cream.
Are There Any Downsides
The only downsides that I can really think of would be two things. The first is that if you're allergic to bees or anything bee related, then you won't be able to use this product or any other product for that matter containing bee venom. The second is that much like many other eye creams, this one contains no SPF so you will need to apply either sunscreen or a regular moisturiser with built-in SPF over the top.
As with all bee venom containing products, make sure you do a skin patch test first before using. I've used several of their products at this point but I still do a patch test with every new one that I try because both the ingredients and the way they're formulated differ between each one.
What about you? Have you tried this eye cream or any other Manuka Doctor product and what did you think of it? Please feel free to let me know what you think in comments below.