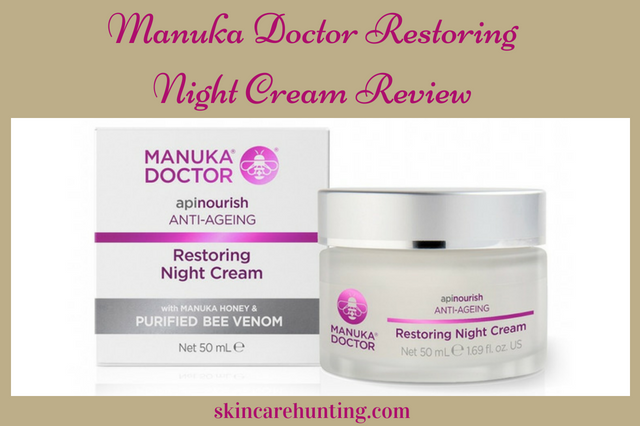 Manuka Doctor Apinourish Restoring Night Cream Review
🛈
This post may contain affiliate links and I may earn a small commission when you make a purchase through those links at no extra cost to you. Also, as an Amazon Associate, I earn from qualifying purchases. You can read my full disclosure here.
The Manuka Doctor Apinourish Restoring Night Cream is a product that I tried quite some time ago but for some strange reason, I never got around to writing a full-length review on it. It's kind of crazy really because even to this day it's one of the most effective night creams I've ever tried.
At the time when I first started using it, I was also trying out two other products from the Apinourish age-defying range so I decided to do a review of all three of them together. But to be honest the brief review on each product just didn't do enough to express how truly effective these products really are. So with that, a full dedicated review for each one is on its way starting with this one, the Apinourish Night Cream.
What Ingredients Are In This Night Cream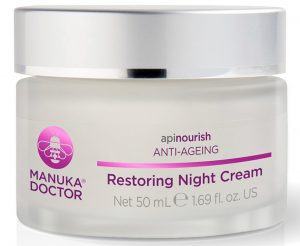 Unbeknownst to me at the time, the Apinourish Restoring Night Cream is actually one of Manuka Doctors best sellers and I can completely understand why. This stuff is rammed full of beneficial skin ingredients from the soothing and replenishing Shea Butter to the unusual and somewhat scary Purified Bee Venom.
The Bee Venom is actually one of the key ingredients in the Manuka Doctor range because it is said to stimulate the production of natural collagen which helps increase skin elasticity. It does this by tricking the skin into believing it's been stung (sounds scary, I know) which causes more blood to be sent to the area stimulating collagen production. It also has the ability to plump up the skin making it look fuller, smoother and less wrinkled and it's so effective at it that it's earned itself the nickname "natures botox".
More Benefiting Ingredients
Another key ingredient in the Manuka Doctor range is the very popular Manuka Honey which is very beneficial for skin, not only as an excellent moisturiser but also for its ability to boost elastin and cell regeneration. The cream also contains Cocoa Butter to reduce skin dryness and improve skin's elasticity and Royal Jelly which is said to stimulate collagen and elastin production.
Also present is Rosehip Seed Oil which has rejuvenating and regenerating properties because of its retinoic acid content, Avocado Oil which is extremely moisturising and Olive Oil which is high in oleic acid which helps keep skin moist and supple. It also contains Blackcurrant Seed Oil which is rich in essential fatty acids that help moisturise and nourish skin and Propolis which helps fight free radicals.

Am I Brave Enough To Try This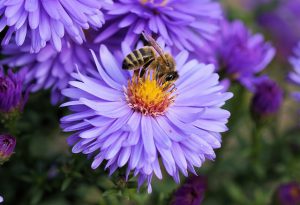 When I first got this cream, I was really scared to use it (I'm a bit weird like that) because I was worried about the bee venom content. I've never been stung by a bee so I had no idea if I'd be allergic to it so I found myself staring at it for several minutes day after day trying to egg myself on to do a patch test only to chicken out every time and say "Nah maybe I'll do it tomorrow".
After about a week of this, I finally plucked up the courage to do the patch test which I very meticulously monitored but even with no reaction, I was still nervous to slather my entire face with it because my irrational brain figured that maybe a larger amount might trigger something that the smaller patch test amount didn't (I really do get on my own overly cautious nerves sometimes). Anyway, after all the worrying I was very relieved to have no reaction.
The Actual Results
This cream is seriously thick and rich which is not surprising really considering the ingredients it contains but it absorbs really quickly despite this and doesn't leave a greasy feel behind like a lot of other heavier creams do. I can't even tell you how many mornings I've awoken to a head full of greasy hair all because of an overly greasy night cream and this thankfully isn't one of them.
As for the effects, well they're actually pretty instant which was quite the surprise. I have a couple of areas where I really notice the fine lines (not so fine if you asks me) like the frown lines between my brows (boy do I notice them ones) and the forehead and I could see an immediate improvement and that was just in the first few minutes of applying it.
The More I Use It, The Better It Gets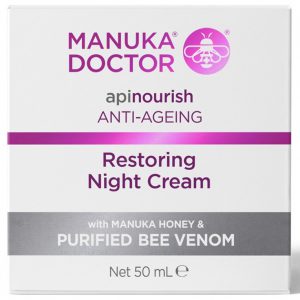 Part of me did wonder if this was one of those products where you'd see immediate results but those results would be short-lived but that wasn't the case. The next morning, my skin still looked smoother and healthier and the more I continued to use this product, the more noticeable the improvements got. The frown lines became much less noticeable and the forehead lines had almost completely disappeared.
Around the eyes and lips were also smoother and the skin around the jawline seemed tighter too so all in all, I was really impressed with this cream. I did have one other worry and that was if this product would cause a break out because it contained some heavier ingredients like the Cocoa Butter which can be pore clogging. Luckily that wasn't an issue and if anything my skin looked clearer than normal.
My Favourite Night Cream So Far
I swear to you, this stuff is instantaneous and that's one of the reasons I love it so much and no matter how many different night creams I test, I keep going back to this one. There's a reason why bee venom has been giving the nickname "natures botox" and I have to agree, it's pretty effective stuff. Although I'm sure all the other ingredient play their part too.
I love the whole Manuka Doctor range and have a whole selection of their products but this one is by far my favourite to date. The only obvious downside is that if you have even the slightest allergy to bees then, unfortunately, you'll have to give this product and any other bee venom product for that matter a miss but if you don't then it's definitely worth trying out.
What about you? Have you been brave enough to try it and if so, what did you think of it? Please let me know all about it in the comments below.