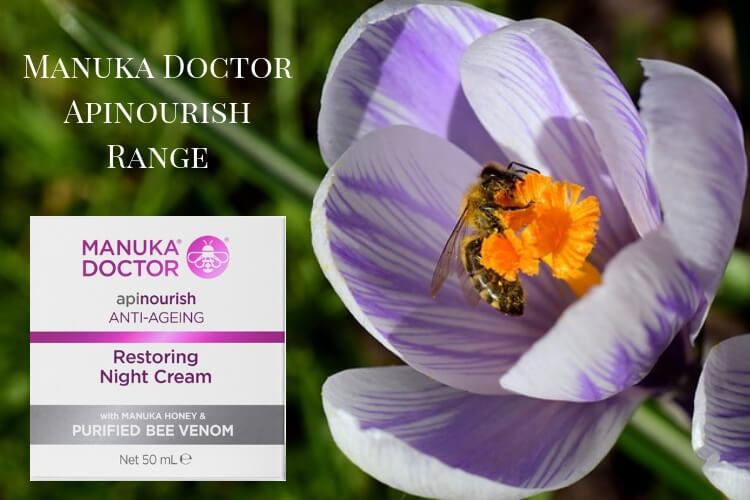 Manuka Doctor Skin Care Reviews – Apinourish Range
🛈
This post may contain affiliate links and I may earn a small commission when you make a purchase through those links at no extra cost to you. Also, as an Amazon Associate, I earn from qualifying purchases. You can read my full disclosure here.
So I've decided to do some Manuka Doctor skincare reviews on three products from the Apinourish range as I've just recently acquired some of them thanks to my very thoughtful husband. He knows I like to give everything a go when it comes to skincare and the ingredients of Manuka Honey and bee venom sounded like an interesting mix.
He very kindly brought me home the Apinourish rejuvenating face mask, the restoring night cream, and the age-defying serum. Hmm, I hope he's not trying to tell me something. Anyway regardless of whether he is or isn't, I was very pleased to get them. I've heard a lot of good things about these products recently and really wanted to give them a try.
The Scary First Application
So first things first, once I had the products at my disposal I became suddenly weary about putting them all over my face all because of two words, "bee venom". I mean it's not like I didn't know they contained bee venom before I got them but now that I had them in my hand and the application process was imminent, I was suddenly filled with a feeling that maybe this wasn't such a wise idea.
I've never been stung by a bee, luckily for me or maybe it's just the super fast speed at which I run away from them every time I see one, so I was extremely apprehensive about trying these products because I really didn't know whether or not I was allergic to them.
I proceeded very cautiously by patch testing the products on a very small area of skin first and nervously waited to see if any reaction occurred. I made sure I did it when my husband was in the house so at least if something untoward did happen he'd be nearby to rescue me. But low and behold no immediate reaction, and 48 hours later all was still clear, phew, so it was now time to test these products out and go full facial.
What Can Bee Venom Do?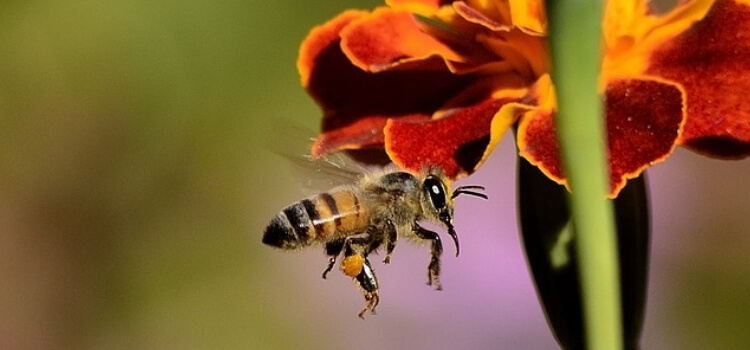 Most of us have probably heard about the benefits of using manuka honey on the skin but probably not bee venom but it's actually becoming quite popular thanks to celebrities like Gwyneth Paltrow, Kourtney Kardashian, Michelle Pfeiffer, and Kate Middleton all singing its praises.
Bee venom is now starting to earn the nickname "nature's botox" because of its ability to plump up the skin and reduce the appearance of wrinkles. It tricks the skin into believing that it's been stung which causes the body to send more blood to the area, therefore stimulating the production of natural collagen which strengthens skin and elastin to help it stay firm.


But What About the Bees?
Don't worry, the bees are not harmed during the collection process. A thin plate is placed in the hive that lets off a very low electrical charge that does not harm the bees but encourages them to release their venom onto the plate surface when they land on it. The chemical odour released from the first bee's venom also encourages the other bees to release their venom too and as their stingers are left intact, they fly away unharmed.
By the way, these products only contain a very low dose of bee venom so don't go running out to the back garden looking for the nearest bee to sting you on the face (I know none of you would really do that, right!) I mean, we have to draw the line somewhere. Anyway below are my experiences with each of the three products and a quick video from Manuka Doctor if you want to know more about their full Apinourish range.
---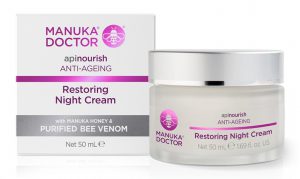 Manuka Doctor Apinourish Restoring Night Cream
So, I'll start with the Restoring Night Cream because in all honesty, I really love this stuff and it's my favourite out of all three. It's a very thick rich cream which I expected to take ages to dry in but it absorbs into the skin very easily and has a lovely cool feel to it.
What impressed me the most was that I pretty much noticed good results almost immediately. The fine lines on my forehead and between my eyes looked instantly reduced and the fine lines around my eyes and lips were also much less noticeable. On the immediate visual results alone, I was sold.
What's even better is that the more and more I use this stuff, the better the results seem to get. This cream also contains tons of other rich ingredients including shea butter, avocado oil, royal jelly, olive and jojoba oil, rosehip and cocoa butter. No wonder my skin felt so much softer and smoother. All in all, this is one of the best night creams I've tried so far, for my skin type anyway. If you'd like to know more about my experience with the Restoring Night Cream, you can read my full-length review on it here.
---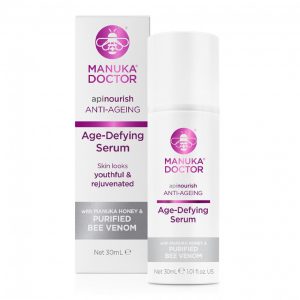 Manuka Doctor Apinourish Age Defying Serum
So next up is the Age Defying Serum and I'm actually pretty impressed with this one too. I purposely used each product on its own at separate points over the course of a few weeks so that I could see the results of each one individually and this one didn't disappoint either. Its consistency is slightly different to what you would expect from a serum in that it has a creamier texture and is whitish in colour (it's more like a light lotion) but it still absorbed into the skin as well as any other serum I've used before.
I personally found the results pretty dramatic especially around the lip and eye area. It was very effective at reducing the fine lines and puffiness and even reduced the dark circles around my eyes (I didn't even apply it directly to that area). I had a poorly child who kept waking me up continuously for four nights in a row while I was testing this product so my eyes were pretty worse for wear at the time.
All in all, I think this is a great serum and I'm personally really impressed so far with the Manuka Doctor Apinourish range. Again, for the full details of my experience with the Age Defying Serum, you can read my full-length review on it here.
---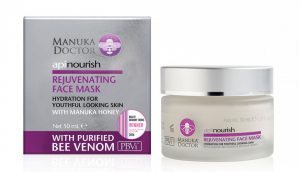 Manuka Doctor Apinourish Rejuvenating Face Mask
And last but not least, the Rejuvenating Face Mask. I'll start by saying that this is probably the weirdest face mask I've ever used in my entire life because it actually absorbs into your skin. Yep, you read that right. You apply it to the face and neck and leave it on for 15 to 30 minutes then gently rub away.
But here's the thing, there's very little left to actually rub away so I had to check this out because there's no mention of this on the directions but according to the Manuka Doctor website, this product is supposed to disappear into the skin. Again pretty good results. This left my skin very smooth and soft after use and the appearance of fine lines seemed less noticeable.
They even claim that with continued use, it can help reduce the appearance of scars. It can also be left on overnight occasionally for an "intense moisture surge" but I just wasn't brave enough for that one yet. It is quite an expensive product though but I guess if you're only using it the recommended twice a week, it should last a long time and as with all of these Manuka Doctor products, a little goes a long way.
---
My Favourite Manuka Doctor Range
Well, there's actually a couple of other products in the Apinourish range and I'm so impressed with what I've tried so far that I may be tempted to invest in the other ones. Manuka Doctor do have several other ranges and I have since tried a few other products from some of them but the Apinourish is my favourite by far and the fact that they refer to this range as "Natures Facelift" tells you all you need to know.
As much as I personally love these products, it's worth noting that everyone's skin is different and we all react differently to different products so remember to bear that in mind. If you do decide to give them a go, it's really important to do a patch test first and definitely do not try any of them if you have any kind of bee allergy.
If you have any stories or thoughts relating to the products, I'd love to hear all about them so please feel free to leave them in the comments below.