The 24k Beauty Bar – Make Room Jade Roller, You've Got Some Competition
So, I've come to the conclusion that I have a real problem and my purchase of the 24k beauty bar has just confirmed it even more so. You see I suffer from what's generally known as shiny object syndrome, you know that syndrome where whenever you see something that looks shiny or pretty, you go "oooh, I have to have that and I have to have it right now". Well, that's me to the extreme point where I think I need to start a dedicated group called SO Anonymous, seriously people, I need help.
My dresser is now starting to look like the skincare product version of Mr. Magorium's wonder emporium with lots of magical skincare gizmos and gadgets that would keep any self-respecting skincare addict (and by addict I mean nutter) amused for hours. But what is this new shiny object that has so rightfully taken its place right at the front of my skincare dresser and found itself placed right next to my prized possession which is my jade roller?
What is the 24k Beauty Bar And What Can It Do
The 24k Beauty Bar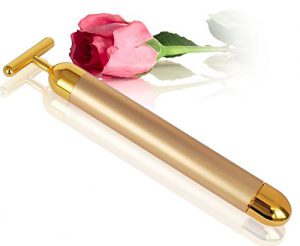 is another hot product from Japan that is supposed to help promote blood circulation and stimulate facial muscles to make your skin firmer, tighter, brighter and smoother. It's a small device with a gold plated t-shaped head that vibrates 6000 times per minute (micro-vibrations) and it's these micro vibrations along with the gold ions on the t-shaped head that give the beauty bar its anti-aging qualities.
If you haven't already heard, gold is supposed to have a whole host of anti-aging skin benefits including antioxidant properties, skin rejuvenating properties and apparently some pretty impressive brightening properties too. This is one of the reasons why these gold infused products are becoming more and more popular and this one, in particular, is supposed to be a seriously hot seller in Japan.
Before I Go Any Further, Why Are Men Fascinated By These Things
So before I continue, I've started to notice a pattern that every time I get new fancy skincare gizmos, my husband seems to be fascinated by them. This one seemed to be of particular interest to him because before I had a chance to even get it out of the box, my husband grabbed it so that he could test its vibrating capabilities. How did he do this I hear you ask, well he turned it up full wack and put it to his nipple, I mean seriously now come on.
And in case you're interested, his response was, "wow, that's powerful". He also made the observation that all women's skincare gadgets have a tendency to look somewhat sexually orientated (have you seen the ReFa Carat!) and they always seem to vibrate. Hmm come to think of it, he's actually got a valid point there, ahem anyway, moving on quickly.
How To Use The 24k Beauty Bar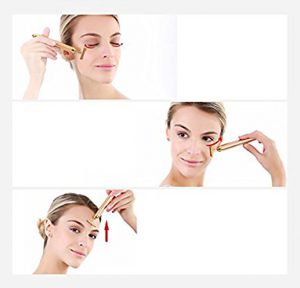 Well, my instructions were kind of in English, I can only imagine that they were translated directly from Japanese but unfortunately not very well but well enough for me to get the basic idea. So the 24k beauty bar can be used on freshly cleansed skin or after you've applied your skincare products (the latter being my preference as it's supposed to help with product penetration) but not over makeup. It's also waterproof so it can be used in the shower.
You simply turn the device on to the preferred vibrating strength and roll the t-shaped head in an upward and outward motion (inside to outside for under the eyes) around the entire face and neck in sections for 2 to 3 minutes. This can be repeated 2 to 3 times a day to help elevate puffiness, tighten skin and reduce the appearance of fine lines and wrinkles.
Did The Beauty Bar Actually Work
Well first off don't put it to close to your nose because it will send your face into a complete and utter spasm (I know, I did it) but this is kind of tricky if you're trying to target the nasolabial fold lines. But does it work, well the short answer is yes and I love everything about it. Like a lot of facial massagers, it stimulates lymphatic drainage which not only helps elevate puffiness but also brings instant colour and brightness to your face.
Jeepers, I just realised while writing this, how many products I use that help with lymphatic drainage, if you include this, my jade roller and my dry body brushing, I must have some serious lymphatic drainage going on.
The lifting effect is pretty instantaneous in my opinion especially along the jawline and the brows, it's not drastic but it's noticeable nonetheless at least for me it was. The reduction of fine lines was also noticeable but whether or not that was down to just the beauty bar or my products penetrating the skin better or maybe a combination of both, I really don't know, but either way, it doesn't matter because the end result was smoother looking skin regardless. It's also extremely enjoyable and relaxing to use as well which is another plus.

But Wait, I Have A Serious Dilemma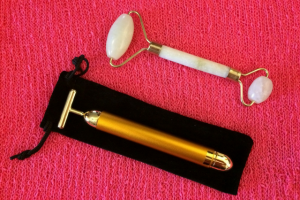 So the long and short of it is that I love this thing but here's the problem, I'm also obsessed with my jade roller. Both products have a very similar purpose and quite frankly somewhat similar results but I love them both and don't really want to give one up for the other. They both have their place for slightly different reasons because you're getting that lovely cooling effect with the jade roller but you're getting the gold benefits and the vibration with the beauty bar so what's a girl to do?
Well, I think in this situation the only solution is to use them both alternately, one in the morning and the other in the evening. They're both far too cool for me to be able to part ways with either one of them so there's no alternative, they'll both have to share the top spot and the prime location for my favourite gizmo at the front of my dresser.
A Lesson To Myself
I really need to control my shiny object syndrome especially when I'm buying a product that is so similar to something I already own but I just couldn't help myself. I honestly didn't expect this to be anywhere near as good as my jade roller. Nevertheless, I now have another very cool and very effective skincare toy to play with.
Have you ever used one of these? What did you think of it and what effect did it have on your skin? Please do tell me all about it in the comment section below.

---