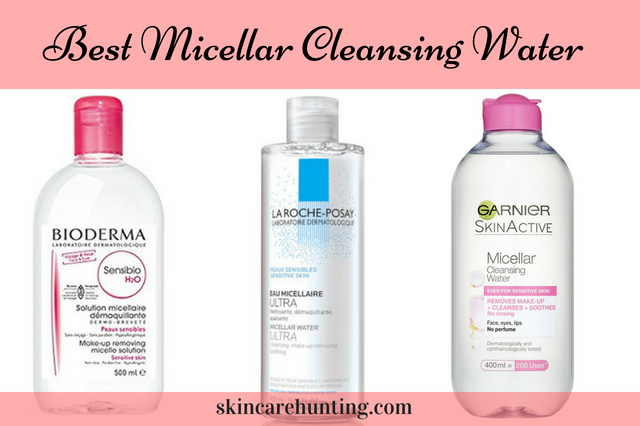 Best Micellar Cleansing Water – The Top Picks
🛈
This post may contain affiliate links and I may earn a small commission when you make a purchase through those links at no extra cost to you. Also, as an Amazon Associate, I earn from qualifying purchases. You can read my full disclosure here.
I don't know about you but I love micellar cleansers, they're quick, they're gentle and they're extremely effective but what is the best micellar cleansing water? There's certainly no shortage of them out there to choose from but there are a few that stand out more than the others and one, in particular, that seems to be a serious firm favourite.
But if you're new to micellar cleansers and wondering why you should even consider one in the first place then there are several reasons why micellar cleanser are a beneficial addition to your skincare regime. With their no-rinse formula, they're just as convenient and effective as face wipes but without the common drying effect which has made them the new go-to product for quick and easy makeup removal. But which ones are coming out as the most popular?
Bioderma Sensibio H20
Bioderma Sensibio H20 is without a doubt the firm favourite in the micellar cleansing world and it also happens to be one of mine too. The fact that it's a common addition to many makeup artists kit bags should tell you everything you need to know. This extremely effective cleansing water can remove everything down to waterproof mascara with very little effort and in very quick time. It also helps to soothe irritated skin and minimise redness while maintaining the skins pH balance.
It's a reasonably priced cleanser that is made for sensitive skin so this makes it suitable for almost all skin types. It is fragrance-free, paraben-free, alcohol-free and hypoallergenic and its no-rinse formula also doesn't leave behind any residue. Bioderma actually estimates that a bottle a Sensibio is sold around the world every 5 seconds so that just goes to show how popular this particular micellar cleanser really is.
---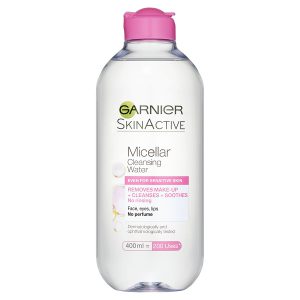 Garnier Skinactive Micellar Cleansing Water
This cheap and cheerful micellar cleanser is another favourite and my second go-to product. In fact, I often alternate between this and Bioderma because quite frankly I like them both. Bioderma is slightly more effective (but not by too much) but Garnier is so cheap that's it's hard to resist the bargain for a product that is so close in likeness to Bioderma.
It's very quick and very effective and also removes regular mascara with ease although it isn't quite as effective as Bioderma when it comes to the waterproof variety. It's still a very good micellar cleanser despite this and in fact, Garnier does sell a waterproof version that is said to be very effective although I can't confirm that myself as I've yet to try it.
It's also a fragrance-free formula which makes it suitable for pretty much all skin types including those with sensitive skin. It does, however, leave a slight residue on your skin but I always follow my cleansing with a good toner so at its bargain price, I can live with that plus it's another good reason to include a toner in your skincare regime.
---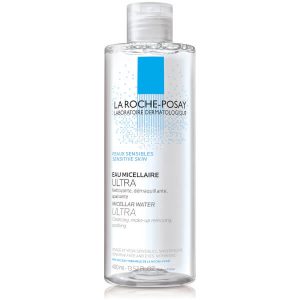 La Roche-Posay Micellar Water Ultra
Another popular choice is La Roche-Posay Micellar Water Ultra which is another reasonably priced cleanser with a similar price tag to Bioderma Sensibio. It is part of the La Roche-Posay physiological cleanser range which is basically cleansers that cleanse sensitive skin while respecting their physiological pH balance making it suitable for all skin types.
The formula is soap-free, colorant-free, alcohol-free and paraben-free although it does contain a slight amount of fragrance. Much like Garnier, it is very effective at removing most forms of makeup but unfortunately, the waterproof variety made need a little more effort to remove. The only downside is that some people experience a drying effect with this cleanser although most are more than happy with its result and as such it still remains a popular choice.

---
Simple Micellar Cleansing Water
Another cheap and cheerful micellar cleanser that again is a popular choice for many micellar users. In fact, this one is the cheapest one of the bunch and its low price is certainly no reflection of its effectiveness. As its name suggests it truly is a simple, quick and easy micellar cleanser that removes most makeup easily although again waterproof varieties may need a little more effort.
Designed with sensitive skin in mind, this cleanser is suitable for all skin types. It is also free of artificial perfumes, dyes, and harsh chemicals and like some of its more expensive counterparts like Bioderma, it also leaves no residue behind on the skin. As an added bonus it also contains the extremely skin benefiting ingredient Niacinamide just for good measure.

---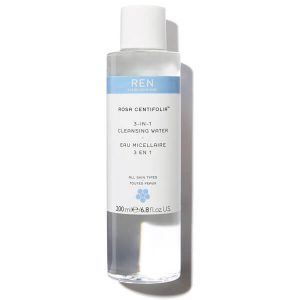 Ren Rosa Centifolia 3 in 1 Cleansing Water
Ren Rosa Centifolia 3 in 1 Cleansing Water is a little more expensive and falls into the Bioderma price range but do note that its 200ml bottle is half the size of most although despite this it is still a very popular choice for those who prefer a more natural product. Ren only uses 100% plant and mineral derived actives so their products are completely free from all synthetic ingredients. This makes this cleanser suitable for even the most sensitive of skin types.
This detergent-free micellar cleanser is also another that leaves no residue behind on the skin. The only downside is that yet again it may not be the best option for waterproof mascara and some even report that it leaves a very hard to remove black smudge behind when you do attempt it. So despite its popularity, it looks like a separate eye makeup remover may be needed with this one.

---
Koh Gen Do Cleansing Spa Water
The Koh Gen Do Cleansing Spa Water is another popular choice in the micellar cleansing world but this one is somewhat more expensive than the others listed above. By somewhat more expensive I really mean double the price of the Bioderma for a smaller 300ml bottle. Still, despite its higher price tag, it has some seriously loyal followers that swear it's the be all and end all of the micellar cleaners.
This cleansing water is said to be extremely effective at removing all kinds of makeup including the waterproof variety and is suitable for all skin types including the sensitive kind. It is sulfate-free and phthalates-free and also contains the collagen and elastin improving ingredient Arginine as well as a host of other botanical extracts. All in all, it's an extremely popular and effective micellar cleanser if you can get over the higher end price tag.

---
Which One Would I Pick
I personally love Bioderma Sensibio just because it ticks all the boxes and leaves your skin feeling really clean and refreshed but it's very closely followed by the Garnier Micellar Cleansing Water and the Simple Cleansing Micellar Water. They're not quite as effective but they come pretty close in my opinion and their bargain price also stands in their favour too.
Do you use a micellar cleanser and if so which one is your favourite? Or do you use a micellar cleanser that isn't on this list that you think should be? Please feel free to let me know in the comments below.

---