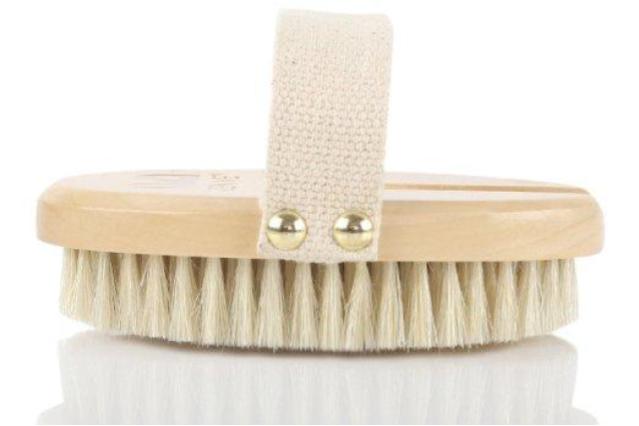 Natural Dry Body Brushes – Top Picks
Natural dry body brushes are without a doubt, the best option when it comes to dry body brushing. If you're new to the world of dry brushing then it's worth mentioning that the benefits of dry body brushing are actually pretty extensive. It can help improve lymphatic drainage, detoxing the body, cellulite reduction, exfoliation, energy levels and overall better skin condition so if you haven't already tried it then you really should consider giving it a go.
The market is flooded with different types of body brushes but natural seems to be the most advisable choice. However, trying to find a good quality brush can be a pretty exhausting task so I've put together a list of some of the most popular choices that will hopefully make it easier for you to pick a good one and get you started on your dry body brushing journey.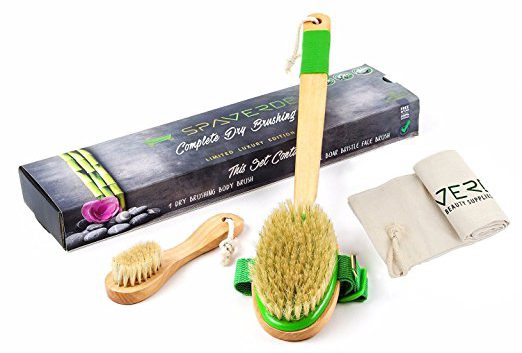 This particular brush has excellent reviews and I can certainly see why. To start off with you're not only getting a body brush but you're getting a dry face brush as well. The whole brush is made of strong cherry wood making this brush nice and sturdy and the bristles on both brushes are made from 100% natural boar bristles.
The body brush comes with a long handle to get to those hard to reach areas, however, the brush head is completely detachable and has a hand strap so it can also be used in the palm of your hand if you prefer. The whole set comes in a gift box and has a storage bag included and if you're new to dry brushing, the set also comes with thorough instructions, a PDF guide, and a video so you can get your dry brushing down to a fine art.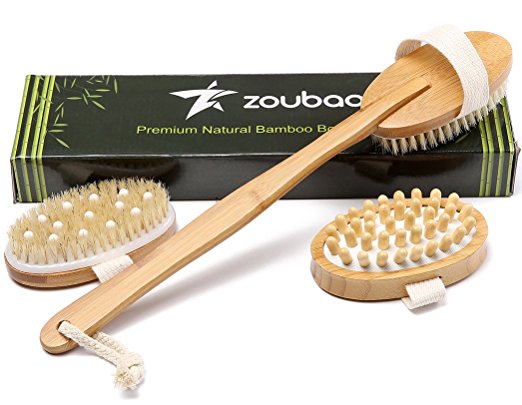 The Zoubaa body brush is another good option with plenty of good reviews behind it. This brush is a body brush only that comes with a long handle and 3 separate detachable heads. The whole brush is made from natural materials including a bamboo handle and boar bristles for the main head.
It also comes with a separate cellulite massager brush head which has wooden nodules and a cushioned base and another brush head for exfoliation/massaging. All three heads also come with hand straps so they can all be used without the handle in the palm of your hand instead. It also comes neatly boxed making it a great gift idea.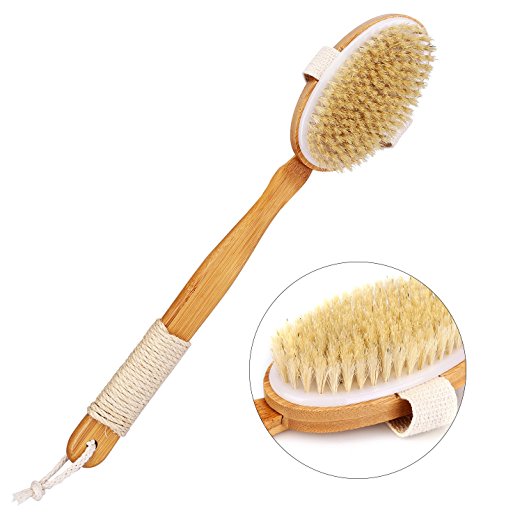 The Homeideas brush is another body brush that has excellent reviews by nearly all those who purchase it. It is made from high-quality natural materials including boar bristles for the brush head which seems to be a popular option for natural brushes. The handle is made from natural bamboo and is longer than most other brushes (15.4 inches long) so you'll have no difficulty getting to those hard to reach areas even if you're taller than most.
Much like most of the brushes mentioned here, the brush head is completely detachable and comes with a hand strap for those who prefer to use it without the handle. It also has an anti-slip hemp rope wrapped around the handle for more comfortable grip and less chance of dropping.
The Kingsley brush is one of the cheaper options and this brush is slightly different to all the others for a few reasons. The first reason is that that head is not detachable which may or may not be an issue depending on what you're looking for. It also has a unique curved wide handle which is said to provide easier use.
This brush comes with no instructions or extras but I guess for the lower price, that's to be expected. The bristles are made from 100% natural boar bristles but some buyers have noticed that this brush is softer than many others so although a relatively firm brush is preferred for dry brushing, this brush may be suitable for those new to dry brushing who want to start off gently.
The Wholesome Beauty dry body brush is another popular option that also has very good reviews from buyers, however, this is a palm brush which means that it doesn't come with a long handle so that could prove difficult when you're trying to brush hard to reach areas like the middle of your back.
This brush is made from high-quality wood and 100% natural bristles which are said to be of the finest grade, however, there doesn't seem to be any information about what kind of natural material these bristles are made from but it does appear to be a relatively firm brush and the buyers seem to more than happy with its quality. It also comes with a free hook and a travel pouch for easy storage.
The Zen Me natural dry body brush is extremely popular and has probably the highest amount of five-star reviews than any other brush here. It has an extra long 14" detachable handle (most others come with a 10") that is made from polished, sustainably farmed lotus wood and also comes with a hand strap so it can easily be converted into a palm brush as well.
The brush head itself is made from 100% natural boar bristles which are described as extra long, curved and medium strength for a firm but non-irritating experience. The brush also comes in a gift box making it an excellent present idea and includes a free exfoliating glove and a "6 steps to vitality" eBook to teach you the best technique.
The Yerba Prima Tampico brush is a slightly different variation to all the other brushes because it is made from a different material. The bristles on this brush are made from Tampico fibre which is the unbleached stem of the agave plant making this brush a suitable alternative for vegans although it is worth noting that this brush may feel a little more on the firmer side.
This brush also comes with a long handle that is detachable although the brush head itself does not have hand straps which may make it slightly more difficult to use without the handle. There are no other extras with this one but that hasn't stopped it being a popular choice and with its low price and great reviews, it certainly deserves a spot on the list.
Final Thoughts
The simple and quick technique of dry body brushing has so many benefits to offer that it's surprising that not everybody has discovered it yet. If you're a dry body brushing virgin then you'll be amazed at how good it feels and probably wonder why you didn't start doing it years ago. I know that's certainly the way I felt at least.
If you'd like to add your thoughts or opinions on any of these brushes or any other brush that you've used and been pleased with, then please feel free to share them in the comments section below.

---
---