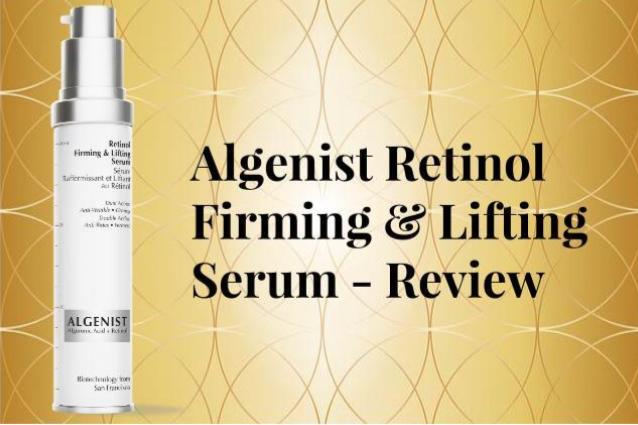 Algenist Retinol Firming Lifting Serum – Review
🛈
This post may contain affiliate links and I may earn a small commission when you make a purchase through those links at no extra cost to you. Also, as an Amazon Associate, I earn from qualifying purchases. You can read my full disclosure here.
The Algenist retinol firming and lifting serum is becoming quite a popular choice when it comes to retinol products and with so many people singing its praises, I decided that I had to check it out in more detail. It's not exactly the cheapest retinol product out there, in fact, it's quite the opposite and at around $100.00 per 1 oz/30ml bottle, you'd certainly want to know that you were getting something that would actually work and make a substantial difference to your skin.
Why Use Retinol
Most of us are already familiar with retinol but just in case you not, retinol is one of the most popular anti-aging ingredients around and it's also one of the most effective and scientifically proven as well. When used correctly, retinol has many skin benefits and can significantly improve the signs of aging and reduce the appearance of fine lines and wrinkles.
It can also help to improve skin tone by evening out skin discolouration, enhance the production of collagen for firmer looking skin and help improve the appearance of sun-damaged skin. All in all, retinol is considered to be quite a potent ingredient but its potency can sometimes come with a few side effects especially if you overdo it or use it incorrectly.
How Does the Algenist Retinol Compare to Others
Algenist has actually put a lot of good stuff into their Firming and Lifting Serum so there's certainly no shortage of antioxidants and anti-aging ingredients as well as the all-important retinol. The exact amount of retinol is not stated on this product (why do skin care companies feel the need to be so secretive?) but its impressive results would suggest that it contains more than an adequate percentage.
The formula is free of Parabens, Sulfates, and Phthalates but for those who are sensitive to fragrance, this product does contain a slight amount but it is relatively small, in fact, it's almost the last ingredient on the label so it shouldn't be a problem for most people. They've thrown in a few peptides into the mixture for good measure too and it also contains the Algenist key ingredient Alguronic Acid.
Alguronic Acid
Alguronic acid is a compound of microalgae and was discovered while scientists were studying microalgae as a renewable source of energy. They found that Alguronic acid had some major skin benefits including significant anti-aging and rejuvenating properties and as such, it is the basis of the Algenist brand and is included in most of their skin care products.
The only issue is that all the scientific research so far has been carried out by Algenist only. No independent research has taken place as of yet to confirm the anti-aging and rejuvenating claims so until that happens, you'll have to take their word for it.
The Algenist Claim
As with most retinol products, the Firming and Lifting Serum claims to able to help with skin elasticity, improving uneven skin texture and tone, reducing the appearance of fine lines and wrinkles and improving dullness too. It is dermatologically tested and noncomedogenic (non-pore clogging) and is said to be suitable for all skin types especially those with normal, combination or dry skin.
Their research results claim that out of 100 women, after 10 days of use twice daily, 91% saw tighter looking skin and 90% saw firmer and more toned skin. After 28 days of twice daily use, 94% saw boosted skin radiance and 93% saw a visible reduction in the appearance of fine lines and wrinkles. They also say that this product is gentle enough for daily use.
Precautions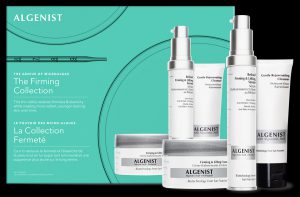 First thing's first, despite the fact that it says gentle enough for daily use, and even twice daily use at that, this is retinol we're talking about here so regardless of how gentle it is, if you're a complete newbie to retinol, start off gently and slowly especially considering that we don't even know what percentage of retinol we're working with here.
You can eventually work your way up to daily use once you know your skin can tolerate it or even twice daily use at that. Most people say that they've had no redness, flaking or irritating side effects with this one but it's still better to be safe than sorry.
 My Thoughts
To start with, this product has a nice light texture and it absorbs into to skin nice and quickly. Most retinol products I've used up until now have had little to no smell to them but this one has a slight aroma to it but it's not unpleasant and it dissipates fairly quickly.
It comes in a pump dispenser which is great but some reviewers have said that it becomes difficult to get the remaining product out when you get near to the end. I'm nowhere near the end of mine so I can't comment on that one yet but I'll add an update if that becomes an issue when I get there.
I personally chose to use this product only at night time because I already use an effective serum during the day. Most of my previous retinol products have been night use only so I've already fallen into the habit of it being a night time only application but it can be used during the day if you wish but it's really important to use a broad spectrum sunscreen afterward.
The Results
I would have to agree that this is a gentle retinol formula because I've experienced no irritation, flakiness or redness whatsoever. There was no stinging or tingling sensation when applied and no skin dryness either so overall, my first impressions were extremely good. This might sound odd but I was slightly concerned that the lack of side effects might mean a lack of effectiveness (no pain, no gain after all) but that wasn't the case.
It was very effective at evening out skin tone and reducing blemishes almost immediately. After about two weeks of use, there was definitely an improvement in the appearance of fine lines and skin firmness. As the weeks have gone on, the improvements have become even more apparent and some of the finer lines have become almost completely unnoticeable.
So far, for my skin at my age, this has proven to be a very effective retinol product but let's not beat around the proverbial bush here, I'm only 37 years old so I suppose the extent of aging is minimal and easier to mask at this point (unless you get me on a bad day in which case I'll be convinced that I have more fine lines than a sheet of crepe paper) but the reviews certainly seem to say that its results are just as effective for those with even the most mature of skin.

Conclusion
My only beef is that I do wish that they'd state what percentage of retinol is in this because it's very hard to change to a weaker or stronger strength retinol if you need to when you don't even know what strength your current product contains. It is however still an effective retinol product despite this. Is it the best retinol product out there? I have a few more to try first before I crown one the winner or at least my personal favourite but for now it definitely deserves its place on my top six retinol products lists.
Have you used the Algenist retinol firming and lifting serum and if so, what did you think of it. I'd love to hear about your experiences with it so don't be shy and tell me all about it in the comment section below.
Update: This product has since been replaced by the Algenist Elevate Advanced Retinol Serum.

---