Retinol and Waxing – Is It a Good or Bad Idea?
🛈
This post may contain affiliate links and I may earn a small commission when you make a purchase through those links at no extra cost to you. Also, as an Amazon Associate, I earn from qualifying purchases. You can read my full disclosure here.
When I first started using retinol, I faced a bit of a conundrum which was the combination of retinol and waxing. I wondered if it would be ok to continue with facial waxing whilst using retinol and if not, what else could I do instead to remove unwanted facial hair? To be honest, up until that first waxing visit, I hadn't given it a second thought and only after booking my usual six weekly appointment did it occur to me that waxing could be problematic to my now more delicate skin.
So I did what I always do and went on a research mission only to discover that sure enough waxing while using retinol isn't always the best mix and can potentially cause some unwanted issues. Prescription-strength retinoids are particularly troublesome but even over the counter retinol can have its issues. This left me somewhat conflicted because retinol has way too many anti-aging benefits for me to ever consider giving it up completely but at the same time I don't particularly want a face full of unwanted hair either.
So what's a girl to do? Be hair free and wrinkly or be wrinkle free and hairy. Neither one is an acceptable option to be honest so surely there must be a way to have the best of both worlds right? So what kind of issues can the retinol and waxing mix cause and what other alternatives are there?
Why it can be a problem
The problem with waxing is that it not only removes the unwanted hair but also a small layer of dead skin cells at the same time. This is particularly problematic to those using retinol because retinol removes dead skin cells leaving the skin with a reduced number if any at all to keep the living cells protected underneath. This, in turn, can leave you with a thinner outer layer of skin.
When the wax is stripped off this newly exposed fresh skin, it can take living skin cells with it which can lead to irritation, raw skin, excessive redness, skin discolouration and in some cases, scarring. Think about what happens when you over exfoliate and remove too much skin, it's somewhat similar. For me, even the slightest possibility of any of these side effects is enough to have me reconsidering my whole de-fuzzing routine.
But what if you really can't live without your waxing? Well, there's always the stop-start approach in which you discontinue the use of all retinol products for about a week before your waxing visit and for several days afterward until any redness and irritation have subsided. My only issue with this though is the constant stopping and starting. I would prefer an option that didn't involve me having to put my retinol away for almost two weeks out of every four to six so what other options are there.
Threading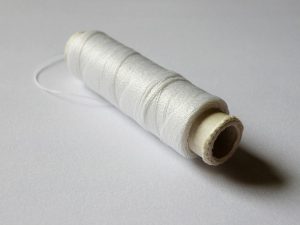 Threading is a very effective and very popular way to remove unwanted facial fuzz by rolling a thread over unwanted hair in a twisting motion and trapping it like a mini-lasso and removing it completely from the root. Unlike waxing, no skin is removed at the same time which makes it an ideal alternative for those using retinol or prescription strength retinoids.
The pain is said to be somewhat similar to tweezing only with numerous hairs being removed at the one time, however, some say they find it more painful than waxing but I guess everyone's pain threshold is different. One thing that is often said is that the results are much better and much more precise than any other hair removal method especially when it comes to the brow area.
This is the method I'm most interested in, although I had been lead to believe that unless you lived in a big city, you may have issues finding a technician that's trained in threading. I can only guess that the technique has become much more popular recently because even living in a very rural countryside area like I do, I've managed to find three local salons that do it. Maybe I just got lucky but hopefully, that's a sign that it's not as hard to find a technician as it once was.
Tweezing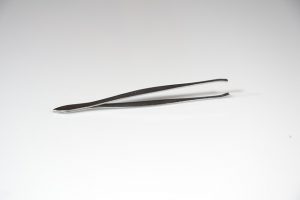 Another popular way to remove unwanted facial hair is to use the good old fashioned tweezer. The hair is still being removed from the root but no skin is being removed at the same time. The only major downside is that it takes a seriously long time to tweeze every little unwanted hair and trying to tweeze all those smaller finer hairs could prove to be quite the impossible task.
If your skin isn't suffering too badly from the side effects of retinol, then you could consider the mass plucking approach by investing in a facial epilator. Facial epilators remove multiple hairs at a time from the root making it a much quicker option than regular tweezing, however, this also makes it a somewhat more painful option too.
This is another method that I'd like to try and I'll be sure to share my experience once I've tried it. However, I have had a rather unpleasant experience with a body epilator in the past and if that's anything to go by then I'm expecting this to be just as unpleasant and eye watering. Hopefully, I can get past the discomfort this time around just enough to at least report back on its effectiveness.
Permanent Hair Removal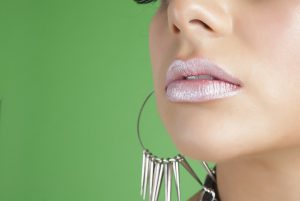 Another option is permanent hair removal although you'd need to put the retinol away throughout the entire course of the treatment but once it's complete you could start using your retinol again safe in the knowledge that you'll never need to worry about hair removal ever again.
Unfortunately, this technique doesn't suit everyone and for those of us with fair hair, this may not be a viable option. Saying that, permanent hair removal has come a long way over the years and there are some treatments that are said to be suitable for even the fairest of hair so I'll spend some time researching this to see what options are available for us fairer haired ladies.
Either way, if the cost and time don't put you off and you're a suitable candidate, it's a great way to solve the whole hair removal whilst using retinol dilemma even if it does mean putting the retinol away for a while until the treatment is complete.
Final Thoughts
All in all, it's looks like we don't have to choose between hair free or wrinkle free after all. We can still have the best of both worlds, we may just need to make a few adjustments to our hair removal technique to avoid any possible side effects.
What's your preferred method of facial hair removal? If you have any stories, good or bad about your adventures in facial hair removal whilst using retinol or retinoids then I'd love to hear all about them so please feel free to share them in the comments below.
Jessie